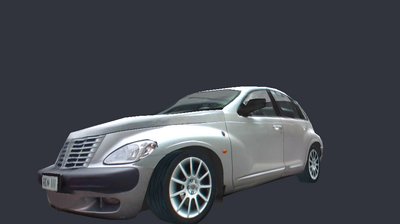 The Autostar Cruiser is a Car in GTA:EB. It is a 4-door station Wagon based on the Chrysler PT-Cruiser. Appearing first in the 2000's Segment and the then rarely in the 2010's.
The In-game Info stats say: " Autostar's Apparent greatest revolution, was released in 2003. It had high hopes bringing back the glam of Autostar's supremacy in the Auto network in the 1940's and 50's. The car was a flop, with neither the Flair nor speed, of 1950's Americana Cars. In late 2005 it was pulled early, a year before it was scheduled to go off the market." This story is very much like the PT-Cruiser's real life story. In game, the car has bad handling, bad brakes, low speed, about the only advantage is that it is strong and also can fit 6 people.
Vehicles
Edit
The Cruiser was mentioned by a pedestrian in the 2000's Mission "The Mall", when a Cruise is being sold in the Empire Arcade Mall Mall,the Pedestrian says "I heard that car just isn't up to expectations, it really is ugly." And the woman talking to the pedestrian will say "I agree, my Cousin had one and he became the disgrace of the Family!"